No new plastics.
Our stylish outerwear is made with high-quality, eco-friendly materials made from recycled plastic waste.
We're partnered with Primaloft to insulate all of our coats with recycled poly fill. Making our jackets good for the planet (inside and out.)
From Plastic to Purpose.
Around the world, 1 million plastic bottles are purchased every minute. Most end up in landfills where they decompose for 400+ years. We work with sustainable manufacturers to repurpose these plastic bottles into textiles that we use to create our stylish outerwear.
STEP 1: COLLECT
Common plastic waste products like water bottles, carpeting, and packaging are kept out of landfills and collected worldwide to be repurposed.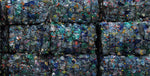 STEP 2: SORT
Post-consumer plastic waste is sterilized, sorted, and prepared to be repurposed into recycled materials.
STEP 3: FLAKE
The sterilized plastic waste is chopped, shredded, and melted into high-quality resin pellets.
STEP 4: REPURPOSE
The recycled resin pellets are melted down and transformed into fibers that are then spun into yarn, fabric, and insulation.
STEP 5: STYLE
The Recycled Planet uses those recycled materials to create fashionable, high-quality outerwear that makes you look good and feel good.